Product description:

---
Product Introduction
GS-LFS3015 fiber cutting machine is adopted with international advanced technology of high power fiber laser source, combined with the company's independent design gantry CNC machine tool system. High strength whole welding cutting bed, have been handled wit high temperature annealing and large CNC gantry milling machine precision processing, thus the cutting bed has vary good rigidity and stability. Driven by Precision ball screw and linear guide. It's mainly aimed at the rapid precision cutting of sheet metal under 4mm. widely used in metal crafts, metal products, precision machinery, auto parts, electronics, toys, glasses, jewelry, nameplates, advertising and other industries.
Parameters
Model

GS-LFD3015

Laser source medium

Fiber

Laser power

500W~1000W

Cutting range(L*W)

3000mm × 1500mm

Z axle stroke

100 mm

Max positioning speed

120m/min

Max height of feeding material

more than 120mm

Cooling form

water cooling

Laser wavelength

1070nm

Min. cutting gap

≤0.1mm

Positioning accuracy of X, Y and Z axles

±0.03 mm

Repeated positioning accuracy of X, Y and Z axles

±0.02 mm

Thickness of cutting material

(according to material)

0.2-12mm

Drive model

Imported servo motor

Power requirement

380V,50/60Hz

Working temperature

5℃-45℃

Continuous working time

24 Hours

Machine weight

About 6750Kgs

Outer dimension

4270mm x2280mm x 1750mm

Total protection level of power supply

IP54
Product feature
1. Adopting world's top imported fiber laser source with stable performance.
2. Opic-electricity conversion rate of fiber laser is 3 times the CO2 laser, which is more energy conservation and environmental friendly.
3. Power consumption of fiber laser is only 20%~30% of similar CO2 laser cutting machine, very low running cost.
4. Driven by gantry structure, dynamic performance is good. The overall layout is compact, rational, only cover a small area.
5. Equipped with special laser cnc system, which can guarantee efficiency and accuracy during high speed running process.
6. X,Y axis adopt imported ball screw and guide line, equipped with central lubrication devices at the same time to guarantee the long-term stability and reliable running.
7. Vertical and horizontal driving have adopted imported high precision helical gear and rack driving, and equipped with high-precision planetary gear reducer and AC servo system to achieve high precision transmission.
8. There is collection device below cutting bed, small cutting material and metal powder will be collected in it.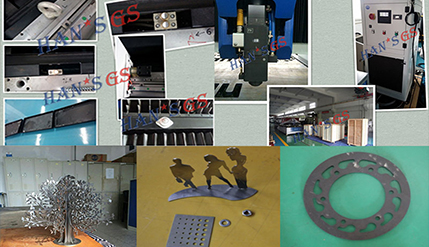 Oblique Gear
Using Taiwan YYC double driver gear and rack.
High precision pinion and rack to ensure the mechanical accuracy over the course of three meters in the scope of work.
Cutting Materials
It is used to cut the metal materials, such as stainless steel, carbon steel, alloy steel, silicon steel, spring steel, galvanize plate, pickled plate, copper plate, aluminum plate, etc.
Application Industry
Widely used in sheet metal processing, aviation, aerospace, electronics, electrical appliances, tube fittings, automobile, food machinery, engineering machinery, precision parts, ships, metallurgical equipment, elevators, household appliances, kitchen utensils and appliances, craft gifts, tool processing, decoration, advertising and other manufacturing industries.
Cutting Sample