Product description:

---
Description:
Along with the development of modern optics technology and semiconductor chip manufacturing technology, while the output of the laser power increasing, restricting the semiconductor laser beam quality in the industrial application of the worst problems are solved step by step.High power semiconductor lasers has been applied in the field of including metal surface strengthening, welding, cutting and marking and many non-metallic processing field , and a number of important progress has been made.
Semiconductor laser robot flexible manufacturing complete sets of equipment launched by Wuhan Han's Goldensky Laser Systems co., LTD.,adopt the international most advanced semiconductor lasers, and six axis robot control system, compose many additional axis linkage of flexible manufacturing system, satisfying the metal surface laser quenching/normalizing, tempering, laser alloying, laser cladding and other advanced manufacturing/remanufacturing process requirements.
The system has a feature of short wavelength, high absorption efficiency, high electro-optical conversion rate, uniform energy distribution, temperature feedback control, etc.At present, the system has been widely used in metallurgy, mold, machinery manufacturing, stone, light industry, energy, transportation, military, scientific research institutions and other industries.
Specifications:
Model

GS-CH25

Laser

Semiconductor laser direct output

Output power range

3-10kW

Stability of the power

± 2%

Electro-optical conversion rate

Typical values can reach 45%

Laser wavelength

980nm+-10nm

Wavelength output way

continuous

Input voltage

3-phase 380V PEN+- 10% 50Hz

CNC machine tools

Stroke (mm)

2500 400 400(X axis X Y axis X Z axis)

Tail-stock mobile

2100

Max. workpiece length

2800

Max. workpiece diameter

800

Overall dimensions

5500 1950 2700(LWH)(not including adjusting shim height)

Control system

Siemens 828D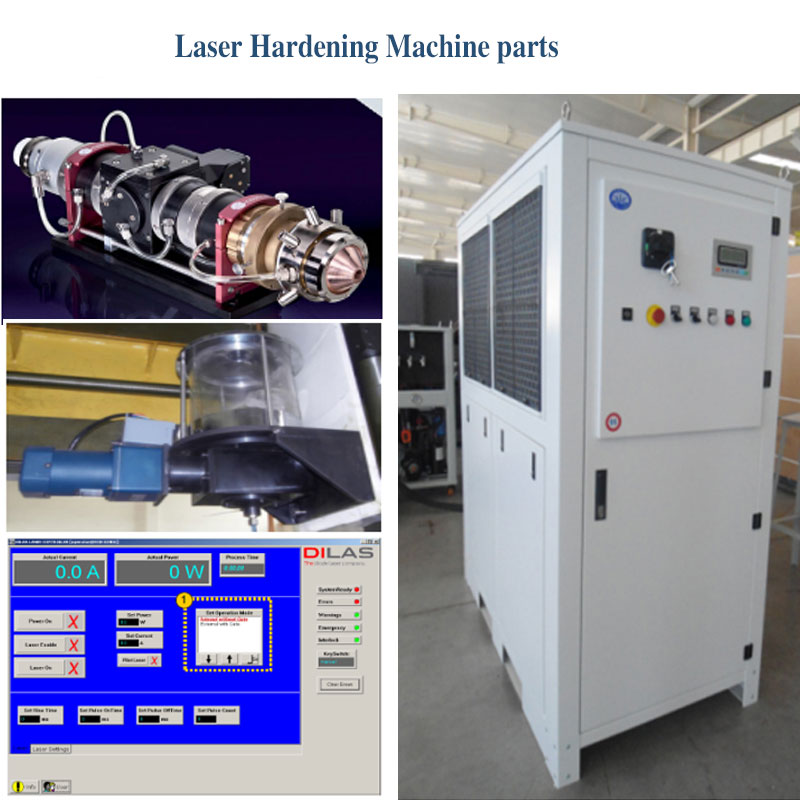 Competitive Advantage:
1.Short wavelength, high absorptivity, 45% electro-optic conversion efficiency, flat light uniform distribution, changeable camera, realizable more light beam output mode .
2.Good stability, the German original laser, modular design, real time data, low failure rate, close to the free maintenance.
3.Energy saving, flexible, high electro-optic conversion efficiency, the typical values up to 45%.Short wavelength, high absorptivity, more easily absorbed by the metal materials.
Optical guide system:
Function of optical guide system is to switch and guild the laser beam into laser cladding head, making its finally works on the workpiece surface.Optical guide system is composed of fiber and laser cladding head, laser cladding is installed on the sixth shaft head of robot.
2.1, Optical fiber: Using LASERLING special conductive fiber.Conductive fiber have standard connectors, which can change processing head quickly, easy for dismounting. When the optical fiber transmit energy, it has self-protection function.Specifications are as follows: core diameter 1000 um, numerical aperture NA0.22, 20 m in length, fiber optic connector socket LLK.
2.2., Cladding head: We choose original imported laser cladding head from laserline.
Applications:
Can complete the shaft parts, flat parts laser processing, widely used in hardware,mining, steel, aerospace and industrial area, can complete the laser surface hardening, laser surface alloying, two kinds of laser machining process, significantly improve the quality of related industries and equipment manufacturing.
Cutting Sample: