Product description:

---
Laser cutting advantages over other thermal cutting methods

1. The cutting quality is good:
Because of the small laser spot, high energy density, fast cutting speed, laser cutting can therefore get better cutting quality.
(1) Cutting knife is narrow and parallel on both sides, also perpendicular to surface, dimensional accuracy of cutting pieces can be up to + / - 0.05 mm.
(2) Cutting surface is smooth and beautiful, the surface roughness is only a few dozen microns, laser cutting can be used as the final working procedure, parts can be even used directly without mechanical processing.
(3) Heat affected zone is very small, material performance is hardly affected near the kerf width , and the workpiece deformation is small. Also, kerf geometry is good , slitting rectangular cross-section shapes appear to be regular.

2. Highly automation:
Adopts digital control, you only need to use CAD to draw the picture and import to specialized software, laser cutting machine can cut out the artifacts you need, moreover there is intelligent typesetting function, thus can save raw material costs to the greatest extent.

3. High cutting efficiency:
Due to the transmission properties of laser, laser cutting machine has equipped with many sets of CNC work bench to realize numerical control. You only need to change the CNC program to cut different shape, as well as for two-dimensional cutting, and three-dimensional cutting.

4. Fast cutting speed:
The cutting speed can be up to 600 cm/min when using 1200W laser to cut 2mm low carbon steel plate, and can up to 120 m/min when cutting 5mm polypropylene resin plate. Material does not need clamping fixed for cutting, thus can save the jig and auxiliary time for material upload and download.

5. Non-contact cutting:
There is no contact for work piece and laser head, so there is no tool wear. No need to change "tool" for different shapes parts processing, only need to change the output parameters. Laser, low noise, small vibration, and no pollution while cutting.

6. Variety cutting material:
Compared with oxyacetylene cutting and plasma cutting, laser can cut many kinds of materials, including metal,nonmetal,metal and nonmetal based composite material, leather, wood, fiber, etc. But for different material,it shows different laser cutting adaptability due to its thermal physical properties and different laser absorption rate.

Parameters
| | |
| --- | --- |
| Model | GS-LFTP3015 |
| Output power of laser source | 500W/1000W |
| Cutting area (L*W) | 3000mm × 1500mm |
| Max tube diameter | 200mm |
| Max tube processing length | 3m |
| Max tube cutting thickness | 5mm |
| X axle stroke | 3048 mm |
| Y axle stroke | 2000 mm |
| Z axle stroke | 80 mm |
| Cooling | water cooling |
| Max accelerated speed of X, Y axles | 1G |
| Kerf Width | 0.1~0.3 mm |
| Positioning accuracy of X, Y and Z axles | ±0.05 mm |
| Repeated positioning accuracy of X, Y and Z axles | ±0.03 mm |
| Processing precision of work piece | ±0.1 mm |
| Kerf harshness | Ra 3.2—12.5 μm |
| Voltage | 380V,50/60Hz |
| Continuous working time | 24 Hours |
| Max bearing weight of working platform | 600Kgs |
| Total installed capacity | 20-25 KVA |
| Total protection level of power supply | IP54 |
Machine Bed

1.Gantry design with double rack and guide, double drive with servo motor; Integral cast aluminum crossbeam of high performance.
2.Welding type machine frame with manual aging treatment; the machine bed is precision processed by gantry type milling machine to ensure the resistance to shock, rigidity and stability.
3.The crossbeam made of high intensity aluminum has the feature of light weight, high rigidity and good accelerating ability; precise process by gantry type milling machine after aging treatment to ensure the movement precision.
4.The aging treatment during the welding to remove welding stress in order to prevent the structure deformation.
5.HIWIN square linear guide from Taiwan with high position precision, less wear; high precision for long service time, easy installation and replacement.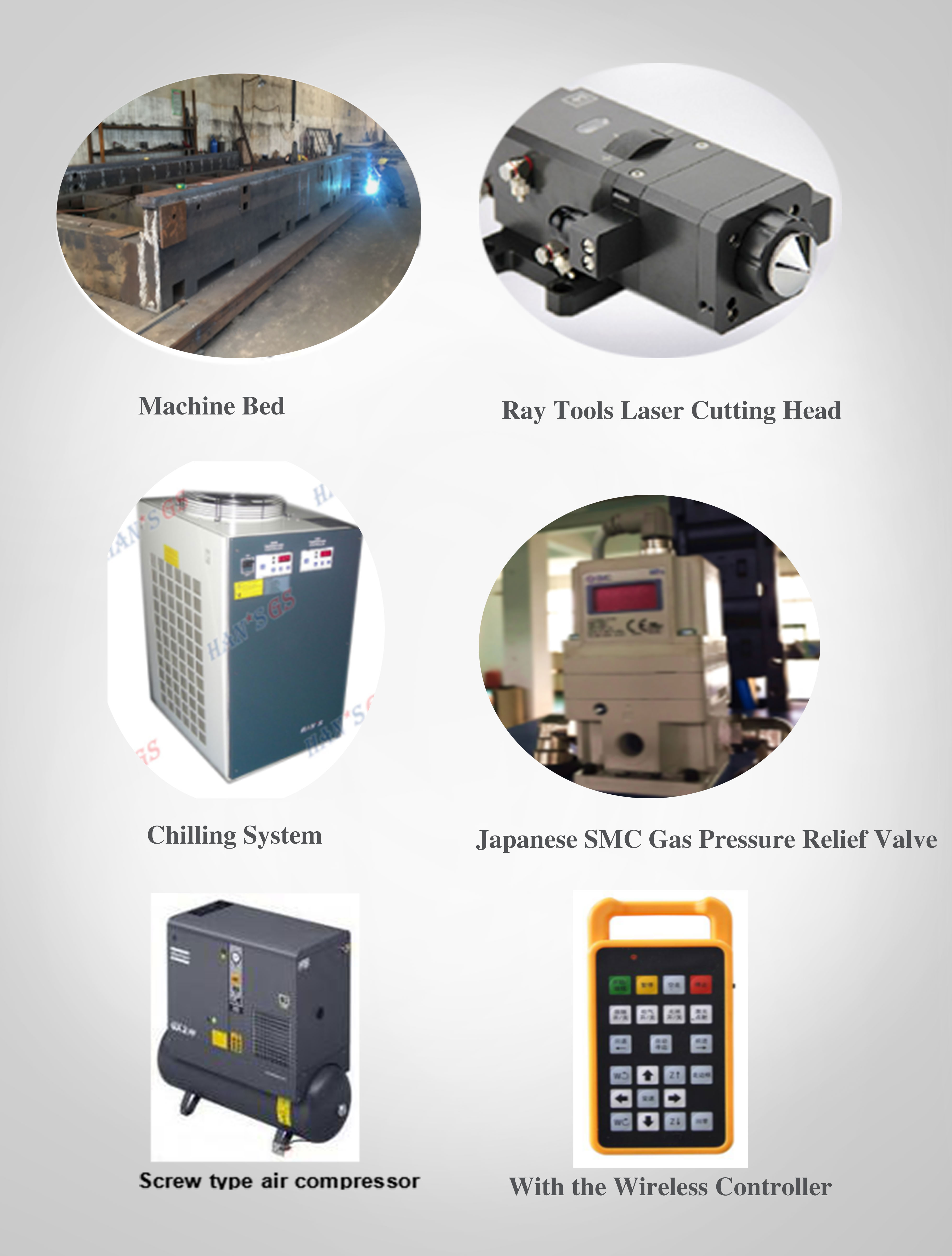 Application Industry

Widely used in sheet metal processing, aviation, aerospace, electronics, electrical appliances, tube fittings, automobile, food machinery, engineering machinery, precision parts, ships, metallurgical equipment, elevators, household appliances, kitchen utensils and appliances, craft gifts, tool processing, decoration, advertising and other manufacturing industries.

Cutting Sample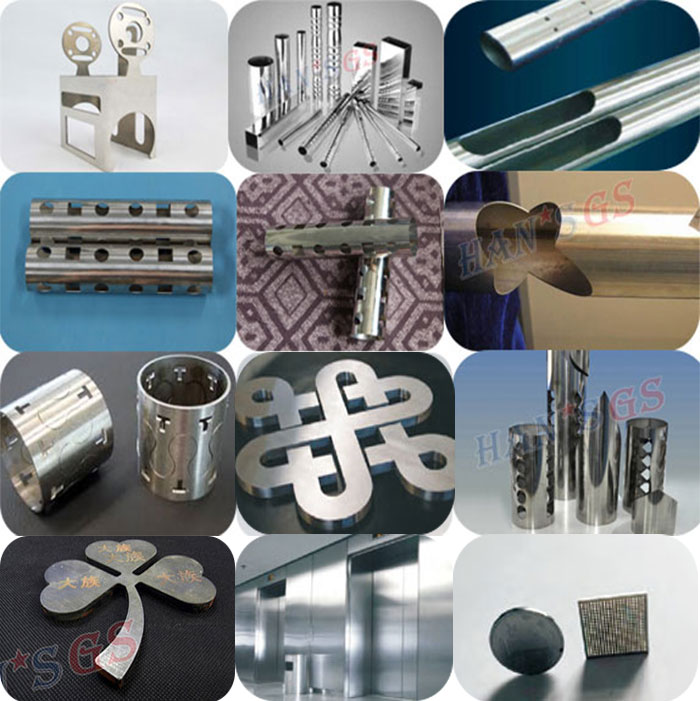 After-Sale Service

Our after-sale network is all over the world which will provide the comprehensive after-sale service to our customer.
Our commitment is as follow:
One year guarantee for the whole equipment.
We will answer your questions within 24hours.
When Equipment warranty expires, lifelong maintenance services will be provided.
After the expiry of the warranty we will offer a wide range of software support with free upgrade for lifelong .