Product description:

---
New GS-LFD3015 Metal Laser Cutting Machine

Functions of New GS-LFD3015 matel laser cutting machine
1. Equipped with exhaust device, have good exhausting effect and little pollution.
2. Small occupied area, high system integration, convenient to operate and maintenance,24 hours continuous working.
3. The water chiller has good safety protection function, such as over temperature, lack phase, pressure, water-break,undervoltage, overload, etc. With stable performance, satisfied the cooling requirement of laser source

Laser Cutting Machine Parameters
Model

GS-LFD3015

Laser source medium

Fiber

Laser power

500W~1500W

Cutting range(L*W)

3000mm × 1500mm

Z axle stroke

100 mm

Max positioning speed

120m/min

Max height of feeding material

more than 120mm

Cooling form

water cooling

Laser wavelength

1070nm

Min. cutting gap

≤0.1mm

Positioning accuracy of X, Y and Z axles

±0.03 mm

Repeated positioning accuracy of X, Y and Z axles

±0.02 mm

Thickness of cutting material

(according to material)

0.2-12mm

Drive model

Imported servo motor

Power requirement

380V,50/60Hz

Working temperature

5℃-45℃

Continuous working time

24 Hours

Machine weight

About 6750Kgs

Outer dimension

4270mm x2280mm x 1750mm

Total protection level of power supply

IP54
High Strength Whole Welding Cutting Bed
1. Our gantry-type flying optical path structure working table has been annealed to relieve internal stress strictly, thus significantly improves the rigidity and stability of the CNC laser cutter.
2. The working table have been handled with high temperature annealing and large CNC gantry milling machine precision processing, can maintain long-term stability and shock resistance, and ensure the precision of the CNC laser cutter.
3. One piece casting aerometal girder with light weight has good dynamic performance. Machining after tempering ensures the integrity, rigidity and stability of the girder.
4. Pneumatic cylinder, convenient to loading materials; pneumatic clamp, assure the located accuracy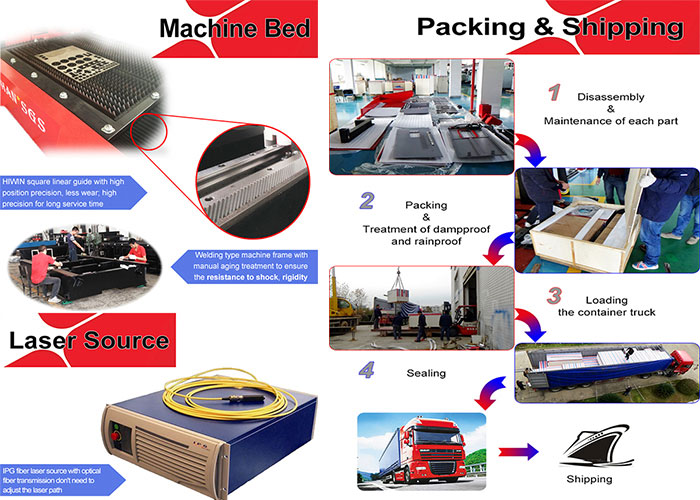 Laser cutting advantages over other thermal cutting method
1. The cutting quality is good:
Because of the small laser spot, high energy density, fast cutting speed, laser cutting can therefore get better cutting quality.
(1) Cutting knife is narrow and parallel on both sides, also perpendicular to surface, dimensional accuracy of cutting pieces can be up to + / - 0.05 mm.
(2) Cutting surface is smooth and beautiful, the surface roughness is only a few dozen microns, laser cutting can be used as the final working procedure, parts can be even used directly without mechanical processing.
(3) Heat affected zone is very small, material performance is hardly affected near the kerf width , and the workpiece deformation is small. Also, kerf geometry is good , slitting rectangular cross-section shapes appear to be regular.
2. Highly automation:
Adopts digital control, you only need to use CAD to draw the picture and import to specialized software, laser cutting machine can cut out the artifacts you need, moreover there is intelligent typesetting function, thus can save raw material costs to the greatest extent.
3. High cutting efficiency:
Due to the transmission properties of laser, laser cutting machine has equipped with many sets of CNC work bench to realize numerical control. You only need to change the CNC program to cut different shape, as well as for two-dimensional cutting, and three-dimensional cutting.
4. Fast cutting speed:
The cutting speed can be up to 600 cm/min when using 1200W laser to cut 2mm low carbon steel plate, and can up to 120 m/min when cutting 5mm polypropylene resin plate. Material does not need clamping fixed for cutting, thus can save the jig and auxiliary time for material upload and download.
5. Non-contact cutting:
There is no contact for work piece and laser head, so there is no tool wear. No need to change "tool" for different shapes parts processing, only need to change the output parameters. Laser, low noise, small vibration, and no pollution while cutting.
6. Variety cutting material:
Compared with oxyacetylene cutting and plasma cutting, laser can cut many kinds of materials, including metal, nonmetal, metal and nonmetal based composite material, leather, wood, fiber, etc. But for different material, it shows different laser cutting adaptability due to its thermal physical properties and different laser absorption rate.
Our team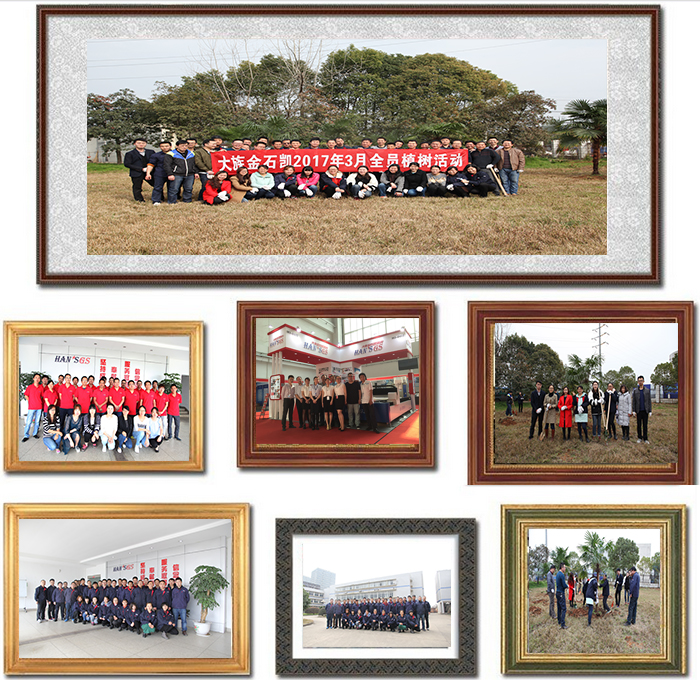 Cutting Materials
It is used to cut the metal materials, such as stainless steel, carbon steel, alloy steel, silicon steel, spring steel, galvanize plate, pickled plate, copper plate, aluminum plate, etc.