Product description:

---
Product Introduction

GS-LFD3015 double drive fiber cutting machine is high technology product intergreated of laser cutting, precision mechanism, digital control technical, adopting with big power laser source with international advance technology. The whole product is sensational designed with excellent flexibility and performance, with international famous brand of key parts, service motor, control system and others. The product has characteristic of high combination, more precision and stable running performance. It's widely used in cutting and shaping industry for carbon steel, stainless steel and aluminum alloy, and regarded as best choice for metal cutting with high speed, high precision, high efficiency and high cost effective feature.

Parameters
| | |
| --- | --- |
| Model | GS-LFD3015 |
| Output power of laser source | 500W~2000W |
| Cutting area (L*W) | 3000mm × 1500mm |
| Z axle stroke | 120 mm |
| Max. cutting speed | 36m/min |
| Max. positioning speed | 90m/min |
| Cooling | water cooling |
| Max accelerated speed of X, Y axles | 1G |
| Kerf Width | 0.1~0.3 mm |
| Positioning accuracy of X, Y and Z axles | ±0.03 mm |
| Repeated positioning accuracy of X, Y and Z axles | ±0.02 mm |
| Processing precision of work piece | ±0.1 mm |
| Kerf harshness | Ra 3.2—12.5 μm |
| Min setting unit | 0.001mm |
| Control System | Ahead Tech(USA) |
| Voltage | 380V,50/60Hz |
| Coverage of complete system | 4500x2700mm |
| Continuous working time | 24 Hours |
| Max bearing weight of working platform | 600Kgs |
| Total installed capacity | 20-25 KVA |
| Total protection level of power supply | IP54 |
Product feature

1.Smaller Focal spot and cutting gap. Much more efficient and better processing quality.
2.Extremely high cutting speed which equals to two times of tradition CO2 laser cutting machine with the same power specification.
3.Adopt international top brand laser source with stable performance.
4.The photoelectric conversion rate is three times higher than traditional CO2 laser cutting machine, and it's environmental protection.
5.Lower running cost compare with traditional CO2 laser cutting machine, the power consumption is 20%~30% of CO2 laser cutting machine.
6.The maintenance cost of fiber laser cutting machine is much lower since it's without reflective lenses.
7.Convenient operation with fiber transmission laser route adjustment is unnecessary.
8.Satisfied with imported AC server motor system and transmission system to ensure the high speed, high precision and high reliability.
9.Gantry design with double drive structure, high damping machine tool with better rigidity which can stand higher speed and reliability.
10.The rack and guide is comprehensively sealed to prevent the friction without oil and dust pollution in order to make the drive system much longer service time and ensure the movement precision of the machine tool.
11.Professional CNC laser control system with computer control which is more simple and convenient for operation.

Ray Tools Laser Cutting Head

1)Equip with Ray tool brand cutting head from Switzerland, non contact type automatic tracking system with capacitor. The focus can be adjusted to get the best cutting quality. The waste of material caused by varying of focus distance when cutting unevenness material is prevented.
2)Focus distance: f=125mm, blowing oxygen gas for combustion boost and good cutting quality.
3)With protection glass inside the cutting head, the consumption of expensive wearing parts like focus lens is low.

Application Industry

Widely used in sheet metal processing, aviation, aerospace, electronics, electrical appliances, tube fittings, automobile, food machinery, engineering machinery, precision parts, ships, metallurgical equipment, elevators, household appliances, kitchen utensils and appliances, craft gifts, tool processing, decoration, advertising and other manufacturing industries.
Cutting Sample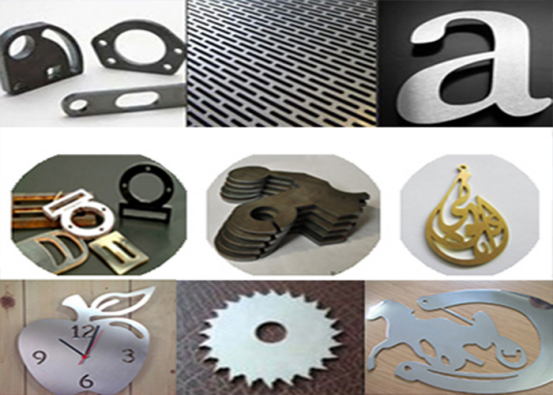 Product description:

---
Laser Cutter,Metal Laser Cutter,laser metal cutting machines,laser cutting cnc machine