Tar reduction and harm reduction are the trend of the global tobacco industry. The State Tobacco Monopoly Bureau is also actively promoting the harm reduction and tar reduction project of cigarettes". At present, the average value of tar in Chinese cigarettes has dropped from 30mg per 20 years ago to 15mg per cent, and the average value of the cigarettes has been reduced by 0.5mg annually.Research shows that people in the process of smoking can reduce the intake of harmful substances such as tar, nicotine and carbon monoxide by air dilution, and the high porosity of cigarette paper and pre perforated tipping paper (tipping paper) came into being.


Tipping paper laser perforating is an important means of reducing cigarette harm (aperture smaller tar dilution higher magnification), but due to the aperture laser perforating only 60 microns, and the distribution of 60-120 mm in width of the tipping paper, the traditional measuring method is limited to the field size and can not achieve accurate measuring object. Tipping paper punching technology has made rapid development in recent years, because of the various methods, methods for quantitative perforating with laser tipping paper of the most simple and effective.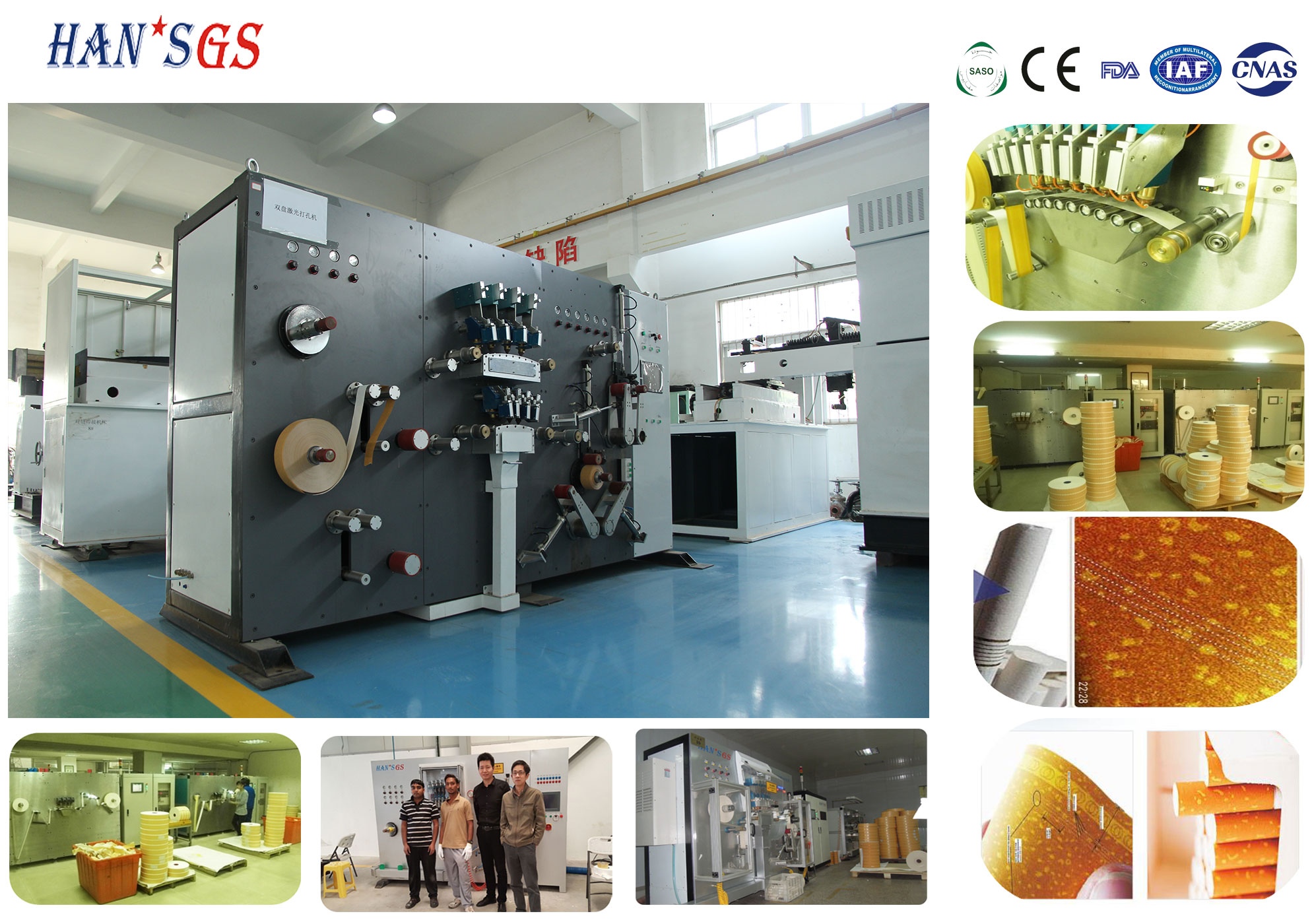 Tipping paper laser perforating equipment produced by HANS GS not only has completely independent intellectual property rights, but also by the state tobacco monopoly administration achievements, and has reached the international advanced level in technology.
At present,HANS GS tipping paper laser perforating equipment mainly used in cigarette production equipment supporting enterprises, since the market, well received by customers, by the end of 2017, HANS GS LASER PERFORATING EQUIPMENT OF CIGARETTE TIPPING PAPER has covered the national market, and exported to overseas markets.

This set of equipment by laser perforating of cigarette filter paper and special production line, realizes coke filter ventilation, thus reducing the harm of smoking on the human body. The number of the laser head can be customized according to customer demand, the production cycle is short (2 weeks), the product performance is stable, all day long 24 hours of uninterrupted work, and life in 10 years, and the laser head can be in tipping paper made of various combinations of special-shaped holes, satisfy the customer as a means of anti-counterfeiting technology demand.