Laser Cutter will gradually replace the punch with enormous marketspace

Laser process equipments in China mainly include laser marking machine, laser welding machine, laser cutting machine, laser dicing machine, laser carving machine, heat treatment machine, 3D shaping machine and Texturing machine, sharing great market percentage in China. The punch is gradually replaced by Laser cutter in the international market. Although both are used in domestic market, the punch will also be replaced by laser cutter as laser technology widely using in manufacturing industry. Therefore, laser cutting equipment has vast market space.

Among the laser processing equipments, laser cutting is the most important application which is already widely used in ship and automobile manufacture, aviation, chemical, light industry, electric appliance, oil, metallurgy and other industry field. Take Japan as an example: the sales amount of punch is around 900 set in 1985 while laser cutter is just 100 set. But in 2005,the former increase to 950 set while the former decline to 500 set.

Chart 1: Application field of high power laser cutting

Key point




Cutting material

· Metal: carbon steel, Stainless steel, aluminum alloy, copper alloy, iron alloy,pickling sheet, galvanized alloy, other alloy material

non-metallic material: PVC, ABS, wood, density board

Application

Aviation, space, military, oil, chemical, ship, automobile, electric, engineering machine, food machinery, advertising, processing, trimming,

Information resource: Prospective Industrial Institution

According to the data from 《2015-2020 China Laser Industry Prediction, Strategy Analysis Report》issued by Prospective Industrial Institution, laser equipment is increasing with stable speed rate. The laser cutting equipment market in 2008 is just 507 million; this figure grows up with over 100% increasing speed in 2012. In 2014, the laser cutter market is 1.235 billion with 8% increasing rate.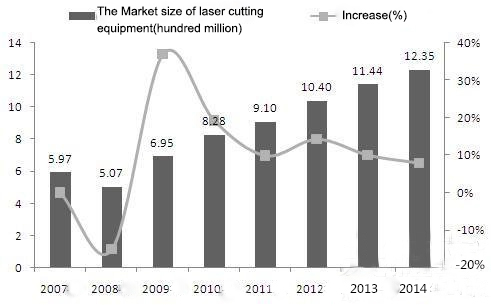 Information resource: Prospective Industrial Institution

According to statistics, the global quantity of high power laser cutter will be around 35000 sets or even bigger. Currently, the quantity in China is 2500-3000 sets. The demand quantity of high power laser cutter in China in end of the 12th five-year plan will be above 10000 sets. The whole market reaches up to 15 billion with unit price of 1.5 million. The penetrance of the high power laser cutter will grow rapidly in future in China.

According to the market growth rate in China and the demand prospect in future, the market of laser cutter in 2020 will reach up to 1.9 billion, which is predicted by Prospective Industrial Institution.

Since the laser cutting process is affected by laser power and laser intensity, the laser source of most cutting machine should have best light beam with parameter close to best technical data. The high power laser source represents the most advanced laser technology. Compared with US and European countries, the quantity of high power laser cutter in China is much smaller. It can be predicted that the demand of high power laser cutter with high cutting speed, high precision and big cutting width will increase with dramatic speed.