March 18, 2015 laser industry Ringier Technology Innovation Awards ceremony was held in Shanghai. More than a hundred senior representatives, representatives of the industry jury award ceremony gathered to share and witness profound changes in innovative products and technologies to China to bring the laser industry. Our CNC laser welding system is involved in the laser industry awards competition, won the "2015 Ringier Technology Innovation Award."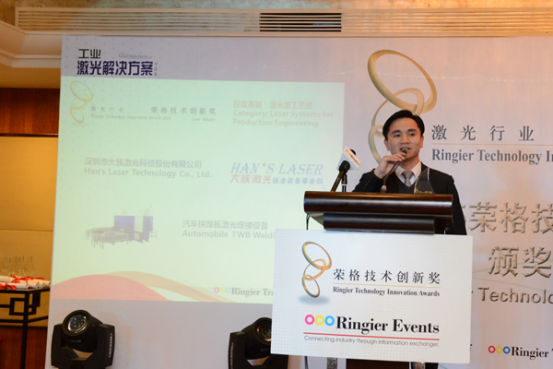 Han's Laser Division CNC sheet metal equipment independently developed laser welding system, configured duplex welding, using professional welding fixture, equipment clamping force, high precision welding, welded steel plate to prevent deformation ability, welding speed, high efficiency, long time to complete the weld, ranging from thick steel for automotive welding, highly efficient, flexible, reliable, high degree of automation significant advantage. The device performance has reached the international advanced level, can replace imported products.

HWF40 car Tailored Blanks laser welding device is a sheet metal equipment division tailored to users, and has been successfully delivered to the user in use, with high reliability, high stability, highly appreciated by users. Currently, Han's Laser sheet metal equipment division has successfully developed automated laser welding systems.
Han's Laser sheet metal equipment division capture key application technology, to the maximum extent to ensure product reliability and stability, while achieving low power consumption, high efficiency and so on, has become prominent corporate power laser welding heavy products. Through in-depth study of the plate, fixture, laser welding characteristics, make full use of mechanical means of professional analysis, innovative design in the product structure, high strength of the new materials to replace traditional manufacturing materials, it has good mechanical and process performance and the application of advanced tools, to avoid heat accumulation caused by continuous welding caused by plate deformation, which greatly improve the cleanliness and uniformity of the plate surface of the weld.

In the automobile manufacturing industry, automobile Tailored Blanks subsequent press molding should be carried out, therefore, the molding quality and defects Tailored Blanks control requirements are particularly strict, including appearance, weld and mechanical performance requirements. And laser welding is an efficient, weld good advantage. Automotive applications tailored blanks can greatly improve vehicle safety and reduce body weight, while having a reduced number of parts and molds, reducing the number of spot welding, optimize material usage, reduce costs and improve the dimensional accuracy and other advantages.

Due to the late start of laser welding technology, research and development is lagging behind by technology and manufacturing process constraints, the domestic laser welding system manufacturer few, and successful Han's Laser CNC welding system products come out, not only broke from imports monopoly industry structure will also provide its own brand of laser welding system solutions to enhance the level of development, and manufacturing of a new level, so that prop up national industrial manufacturing its own brand development needs at the forefront of technology innovation!